Below circuit design is a simple Hi-Fi 10W audio amplifier circuit based on TDA1910. This circuit will deliver 10W power output if used 8 ohm loudspeaker and powered with 24V DC supply.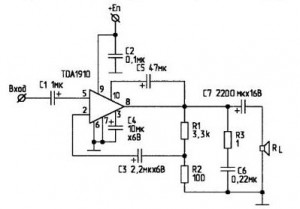 This circuit can be operated with voltage range of 8V – 30V DC, with recommended supply is 24VDC. Mount the TDA1910 on a heatsink to prevent overheating and maintain the IC's performance.

The TDA 1910 is a monolithic integrated circuit in MULTIWATT? package, intended for use in Hi-Fi audio power applications, as high quality TV sets.
The TDA 1910 meets the DIN 45500 (d = 0.5%) guaranteed output power of 10W when used at 24V/4W. At 24V/8W the output power is 7W min.
TDA 1910 Features:
muting facility
protection against chip over temperature
very low noise
high supply voltage rejection
low "switch-on" noise.
Download TDA1910 datasheet, 10W audio amplifier, to know the IC characteristics from the following link: