Here is the?2 x 100W stereo power amplifier with STK4231II as the main amplifier component. This is a high power audio amplifier with dual output channel at 100W max for each channel. I think it is a very good amplifier because it has capability to deliver high stereo output power with only use a single chip power IC.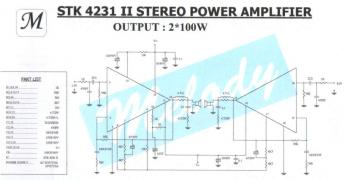 Circuit Notes:
This circuit using dual polarity power supply, please see the IC datasheet for the recommended power supply voltage.
Mount the power IC on heatsink to prevent overheating on its.
Dual Polarity Power Supply Scheme Diagram: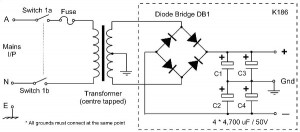 Use 5A center tap transformer for maximum result. Change the capacitor with higher value (about 6800uf). Maximum voltage for the circuit is 75V, recommended voltage 51V.
STK4201II Features:
The STK4201II series (STK4231II) and STK4201V series (high-grade type) are pin-compatible in the output range of 60W to 100W. Once the PCB pattern is designed, you can easily satisfy the requirements for new sets simply by changing the IC.
Built-in muting circuit to cut off various kinds of pop noise
Greatly reduced heat sink due to case temperature 125?C guaranteed
Excellent cost performance
Download the power IC STK4231II datasheet document from the following link:

Good luck…
Incoming Search:
stk4231
,
stk ic
,
stk 4231
,
STK4231II
,
stk ic audio amplifier