This is the circuit diagram of 2 x 22W stereo car audio amplifier. The circuit is powered by a single IC TDA1553 with some external components, this IC will handle your stereo car audio system.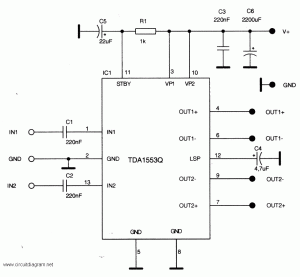 The TDA1553CQ is a monolithic integrated class-B output amplifier in a 13-lead plastic DIL-bent-SIL power package. It contains 2×22 W amplifiers in BTL configuration. The device is primarily developed for car radio applications.

The TDA1553CQ contains two identical amplifiers with differential input stages and can be used for bridge applications. The gain of each amplifier is fixed at 26 dB.
Special features of the device are:
3-state mode switch
? standby: low supply current (<100 mA)
? mute: input signal suppressed
? operating: normal on condition.
Loudspeaker protection
When a short-circuit to ground occurs, which forces a DC voltage across the loudspeaker of >= V, a built-in protection circuit becomes active and limits the DC voltage across the loudspeaker to <= V. Pin 12 detects the status of the protection circuit (e.g. for diagnostic purposes).
Short-circuit protection
If any output is short-circuited to ground during the standby mode, it becomes impossible to switch the circuit to the mute or operating condition. In this event the supply current will be limited to a few milliamps.
Download the TDA1553CQ datasheet from below link: