Here's the circuit diagram of a 70W stereo power amplifier which built using single power IC STA550. The circuit is simple and require little additional electronic components to support the work of IC STA550.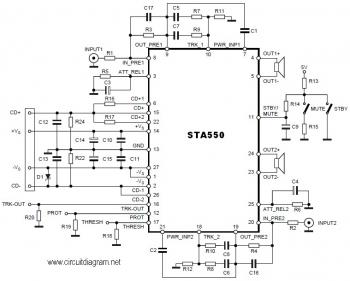 This power stereo amplifier works with dual polarity / symmetrical power supply. Since based to the datasheet, the negative supply range is only -22V max, then you may use +/- 20V up to +/-22V supply. Don't forget to mount a heatsink on the power IC STA550 to prevent overheating.? With the features of this IC is owned, produced the audio output will not disappoint.

About STA550:
The STA550 is a fully integrated power module designed to implement a BASH? amplifier when used in conjunction with STABP01 digital processor.
Features:
Monochip bridge stereo amplifier for bash? architecture
55+55w output power @ rl = 4/8?, thd = 0.5%
70+70w output power @ rl = 4/8?, thd = 10%
High dynamic preamplifier input stages
External programmable feedback type compressors
Ac coupled input to class ab bridge output amplifier
Precision rectifiers to drive the digital converter
On-off sequence/ timer with mute and standby
Proportional over power output current to limit the digital converter
Absolute power bridge output transistor power protection
Absolute output current limit
Integrated thermal protection
Power supply over voltage protection
Flexiwatt power package with 27 pin
Download STA550 Datasheet for 70W power stereo amplifier circuit reference.