Here the great 35W power amplifier with single IC STK-082 from Sanyo Semiconductor. Simple circuit with high power output.. 🙂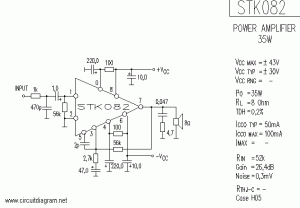 This circuit uses symmetrical (dual polarity) power supply with maximum power voltage is 43V based on the datasheet document. The recommended voltage operation is +/- 30V. For stereo application, you just need to build two similar circuit. Use minimum 2A center tap transformer for stereo channel amplifier.

Use this kind of dual polarity power supply circuit: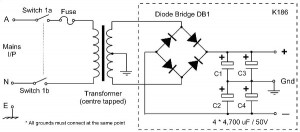 STK082 Features:
@lMST, l Channel? by 2 Power Supplies
Differential amp. constantc current driving.
Capable of tone controlling.
Download the STK-082 datasheet from the following link: