Below is a 80W audio amplifier circuit is constructed by using a power IC TDA7295. With a very simple design, makes this circuit very easy to build. TDA7295 has many features to support your audio system, the most important is that the IC has very low distortion and very low noise feature.
PCB Layout: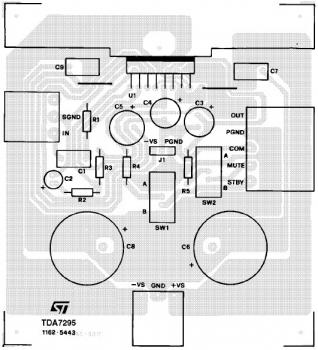 Circuit Notes:
Power supply voltage should not exceed 40V.
Use stable and regulated power supply. The power supply should be has? minimum current output? 2A.
Use heatsink to prevent overheating on the power IC.
About TDA7295:
The TDA7295 is a monolithic integrated circuit in Multiwatt15 package, intended for use as audio class AB amplifier in Hi-Fi field applications such as home theatre and topclass TV. The wide voltage range and to the high out current capability make the TDA7295 able to supply the highest power into both 4W and 8W loads even in presence of poor supply regulation, with high Supply Voltage Rejection.
The built in muting function with turn on delay simplifies the remote operation avoiding switching on-off noises.
Dual Polarity Power Supply Scheme Diagram: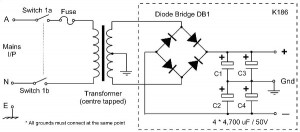 Use Minimum 2A center tap transformer for maximum result for mono/single channel application. Change the capacitor with higher value (about 6800 uF). Recommended supply voltage is 40V.
Download the datasheet document for your reference to optimize this circuit diagram.
Download TDA7295 datasheet PDF from the following link:

Incoming Search:
tda7295
,
tda 7295
,
circuit diagram of audio amplifier of 12v pdf
,
home theatre circuit diagram pdf
,
tda7295 amplifier circuit