This is the circuit diagram of mini AM Radio receiver.
All general purpose transistors should work in this circuit, you can use BC549 transistors for this circuit.

The circuit use a compact three transistor, regenerative receiver with fixed feedback. It is similar in principle to the ZN414 radio IC which is now replaced by the MK484. The design is simple and sensitivity and selectivity of the receiver are good.
All connections should be short, a veroboard or tagstrip layout are suitable. The tuning capacitor has fixed and moving plates. The moving plates should be connected to the "cold" end of the tank circuit, this is the base of Q1, and the fixed plates to the "hot end" of the coil, the junction of R1 and C1. If connections on the capacitor are reversed, then moving your hand near the capacitor will cause unwanted stability and oscillation.
AM Radio Receiver PCB Design:
The image below is an actual size (scale= 1:1) copy of the copper layer. Note that this is reverse so the veropins appear now on the left hand side at the top. Remember that this is the lower (solder) side, by viewing the top image you should be able to match up the positions of all components.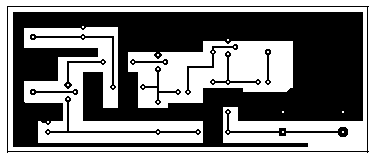 Please visit this page for detail explanation from author, schematic diagram and PCB layout of mini AM Rradio receiver circuit.
Incoming Search:
am radio receiver circuit
,
www schematic-diagram AM reciever 707
,
am radio receiver schematic
,
AM radio receivers