Below diagram is the circuit diagram of Dan Amstrong Blue Clipper fuzz, effect for electric guitar:

The Blue Clipper is a thick sounding fuzz with gargantuan sustain. The Blue Clipper delivers a nice, thick fuzz like the Muff, but this unit packs a little more bite. The big difference is that the gain level is preset and there is no tone knob to be found. Rest assured ? it has enough gain and is dialed in for most people"s tastes. In a startling display of simplicity, you control the gain of the Blue Clipper by adjusting your guitar"s volume. Turned down you get some nice crunchy break up; crank that volume knob and the Blue Clipper churns with snarl and spit.

It handles most chords well, but occasionally got muddy with certain chord voicings, especially when on the neck pickup. Another possible point of contention occurs when the guitar"s volume is all the way up ? hit any open strings while simultaneously playing fretted notes and the fretted notes may get washed out.
Download the above Blue Clipper guitar effect circuit in PDF file:

The following PCB design is the another original Dan Amstrong Blue Clipper guitar effect circuit: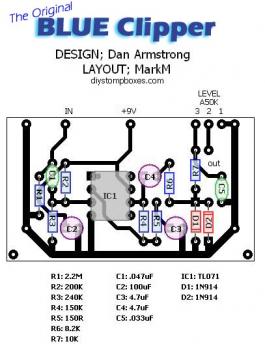 Original Dan Amstrong Blue Clipper circuit:
http://www.aronnelson.com/gallery/main.php/v/MarkMs-Gallery/album15/album76/Blue_Clipper_LAYOUT_001.jpg.html