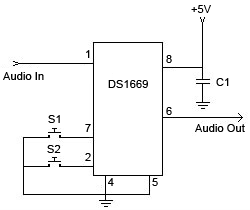 The DS1669 is an electronic digital rheostat manufactured by Dallas Semiconductor. This component has a function similar to digital variable resistor/potensiometer which can be operated by push the buttons.
You can adjust the audio volume, LCD contrast, frequency, etc. by using two buttons instead of a common potentiometer/trimpot. This circuit explains how we do it with IC DS1669 IC. This IC is very popular and is widely used because it is a variable resistor that never wears down. By using S1 and S2 push buttons you can adjust the resistance. C1 is only a 0.1uF ceramic capacitor. You can use the datasheet of IC DS1669 to get more detailed information.

DS1669 Digital Variable Resistor Features:
Replaces mechanical variable resistors
Electronic interface provided for digital as well as manual control
Wide differential input voltage range between 4.5 and 8V
Wiper position is maintained in the absence of power
Low-cost alternative to mechanical controls
Applications include volume, tone, contrast, brightness, and dimmer control
Available in 8-pin SOIC and 8-pin DIP packages
Standard resistance values for Dallastat:
DS1669-10 ~ 10 k?
DS1669-50 ~ 50 k?
DS1669-100 ~ 100 k?
Download the Digital Variable Resistor DS1669 Datasheet: