The following diagram is the schematic diagram of electric guitar effect: Electro-Harmonix (EH) Big Muff Pi.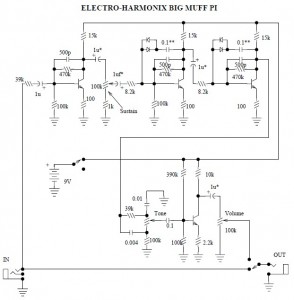 The EH Big Muff Pi effect circuit would probably be better making the change by a modern input-jack power and a? DPDT bypass switch. The types of transistors and diodes are unknown. It is likely that any high gain NPN transistor and diode 1N914 will work. Coupling capacitors marked with * have been reported at its best if it has changed to 0.1uF and the capacitors marked with ** changed to 1.0UF. The original transistors were labeled SPT 87-103, and diodes of origin have been marked or 525GY or 523GY (difficult to read.)

The Big Muff Pi is a fuzzbox produced in New York City by the Electro-Harmonix company, along with their Russian sister company Sovtek, primarily for use with the electric guitar. It is used by bassists as well due to the Big Muff's low end frequency response.
The Big Muff Pi was the first overwhelming success for Electro-Harmonix's line of pedals. Due to its reliability, its low price and its distinctive sound, the Big Muff sold consistently through the 1970s and was found in innumerable guitarists' pedal collections. For example, David Gilmour and Carlos Santana (although CS owned one it is reported he did not use it) were some of first famous users of the pedal. David Gilmour famously used the Big Muff on the Pink Floyd albums Animals and The Wall and most recently on his 2006 On An Island tour. Other artists who used the Big Muff during the 1970s include Thin Lizzy, Kiss, Frank Zappa (FZ had it modified to produce a very non-typical BMP distortion), and Ronnie Montrose. Metallica bassist Cliff Burton regularly used the Big Muff for playing bass leads and solos.
Download Electro-Harmonix Big Muff PI effect circuit diagram in PDF: