The following is an electronic circuit called galaxy audio booster which serves to improve the performance of your audio system. This circuit uses an IC RC4558 in which there are two op-amp modules that can be used for stereo audio applications.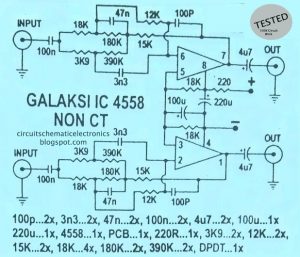 The circuit is similar to stereo tone booster that uses the principle of High Pass Filters are then amplified to produce a powerful high tone; and also uses the principle of Low Pass Filter which is then amplified to produce a powerful low tone.

Regulated DC power supply 12-15V should be used to make this circuit work with the maximum performance and reduce "hum" noise.
Galaxy Audio Booster PCB Layout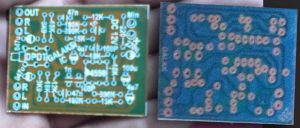 RC4558 Op-Amps Description

The RC4558 device is a dual general-purpose operational amplifier, with each half electrically similar to the ?uA741, except that offset null capability is not provided.

The high common-mode input voltage range and the absence of latch-up make this amplifier ideal for voltage-follower applications. The device is short-circuit protected, and the internal frequency compensation ensures stability without external components.

RC4558 Features:

Continuous Short-Circuit Protection
Wide Common-Mode and Differential Voltage Ranges
No Frequency Compensation Required
Low Power Consumption
No Latch-Up
Unity-Gain Bandwidth: 3 MHz Typ
Gain and Phase Match Between Amplifiers
Low Noise: 8 nV/√Hz Typ at 1 kHz

APPLICATIONS

DVD Recorders and Players
Pro Audio Mixers

Download datasheet document: RC4558 Datasheet
Source: circuitschematicelectronics.blogspot.co.id
Incoming Search:
Circuit 4558 galaksi