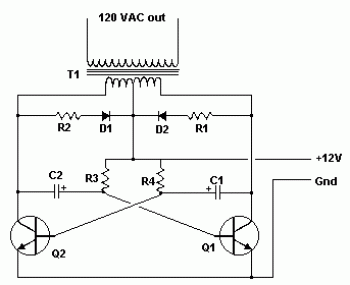 This is a basic and very simple low power inverter to convert 12V DC to 120V AC. How much power this simple inverter can handle the load depends the transformer current value and transistors you use for Q1 and Q2.

Inverter 12V DC to 120V AC Component List:
C1, C2 : 68 uf, 25 V Tantalum Capacitor
R1, R2 : 10 Ohm, 5 Watt Resistor
R3, R4 : 180 Ohm, 1 Watt Resistor
D1, D2 : HEP 154 Silicon Diode
Q1, Q2 : 2N3055 NPN Transistor (see "Notes")
T1 : 24V, Center Tapped Transformer
Misc:
Wire, Case, Receptacle (for output)
Fuses, Heatsinks, etc.
Note: Don't try to run inductive loads (motors) using this inverter.
More explanation about how its work and the component list about this simple power inverter, visit this page
Incoming Search:
Dc to ac circuit
,
12v to 240v inverter circuit diagram
,
Ac circuit diagram
,
dc to ac circuit diagram
,
simple dc to ac converter circuit diagram