This is the electronic circuit diagram of metronome sound generator. The circuit featured adjustable volume and beats/minute with potentiometers. LED used to be a beat indication. The circuit powered with 9V DC voltage, a 9V battery can be used to operate this metronome circuit. This circuit designed by Velleman.

A metronome is any device that produces regular, metrical ticks (beats, clicks) ? settable in beats per minute. These ticks represent a fixed, regular aural pulse.
The metronome is used by musicians to help keep a steady tempo as they play, or to work on issues of irregular timing, or to help internalize a clear sense of timing and tempo. The metronome is also often used by composers as a standard tempo reference, to indicate the intended tempo for the piece.
The manual kit for this metronome sound generator circuit can be view/download from below link:
Metronome Circuit Manual mk106
Metronome Kit Preview: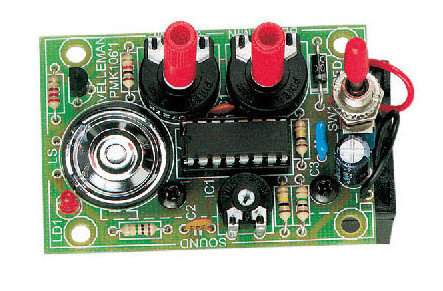 Incoming Search:
www circuitdiagram com
,
IC 2025