This is the scheme diagram of passive surround circuit. Passive surround doesn't need any active components and power supply to make the circuit works. The circuit just need the combination of resistors and electrolytic capacitors.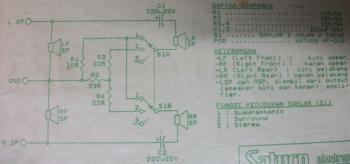 Circuit Notes:
This passive surround circuit MUST be connected after power amplifier module.
Use full range type of loudspeaker. Do not use woofer or tweeter speakers for rear speakers.
Left Front and Right Front can be speaker box contains woofer and tweeter.
5W resistors is a must, 1/4 or 1/2 watt resistor will make it burned.
Loud Speaker Position:
LF : Output > connect to Left Front Speaker
RF : Output > connect to Right Front Speaker
LR : Output > connect to Left Rear Speaker
RR : Output > connect to Right Rear Speaker
Switch operations:
1 : Quadrophonic
2 : Surround
3 : Stereo (passive surround deactivated, Rear Speakers disconnected)