Here is the USB sound card circuit based on PCM2706 which dedicated for USB audio. With USB controller module inside PCM2706, there is no more additional programming to the IC. The computer system will automatically detect this circuit when connected to the USB port. You will get stereo audio channel output from this circuit.
Schematic Diagram: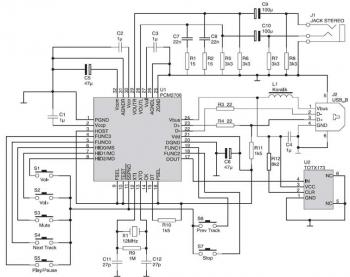 Components List:
1x PCM2706 – 32-PIN TQFP
1x 12 MHz Crystal
1x 1M Resistor
4x 3.3K Resistor
2x 1.5K Resistor
2x 22 Ohm Resistor
2x 15 Ohm Resistor
2x 100uF Capacitor
2x 47uF Capacitor
4x 1uF Capacitor
2x 22nF Capacitor
2x 27pF Capacitor

PCB Layout: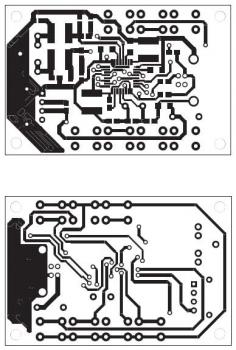 The PCB layout using double layer design. You may create your own design using single layer board, but it will be resulting larger size of PCB.
Technical Specifications:
Supply Voltage: 5V
Interface: USB 1.1, USB 2.0
Output Interface: Headphones, S/PDIF
Sampling Rate: 32KHz, 44KHz, 48KHz
SNR: 98dB
THD: 0.006%
Headphone Output Power: 12mW
Power Consumption: 35 – 45mA
OS: Windows 98, ME, 2000, XP, Mac OSX
Source: http://electronics-diy.com/PCM2706_USB_Soundcard.php
Visit the page for more detail of PCM2706 USB Sound Card circuit explanation.
About PCM2706:
The PCM2704/5/6/7 is TI"s single-chip USB stereo audio DAC with USB 1.1 compliant full-speed protocol controller and S/PDIF. The USB-protocol controller works with no software code, but USB descriptors can be modified in some parts (for example, vendor ID/product ID) through the use of an external ROM (PCM2704/6) SPI (PCM2705/7) or on request. The PCM2704/5/6/7 employs SpAct architecture, TI"s unique system that recovers the audio clock from USB packet data. On-chip analog PLLs with SpAct enable playback with low clock jitter.
Download PCM2706 datasheet from the following link:

Incoming Search:
usb mp3 player circuit diagram pdf
,
usb sound card circuit diagram