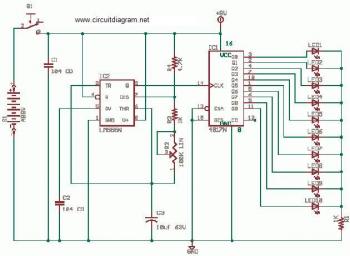 This is running LEDs circuit which use timer ID NE555N and logic IC 4017N. IC 555 act as a multivibrator and generate frequency to be used for 4017 clock input.

The 4017 is a high speed silicon gate CMOS 5-stage Johnson counter with 10 decoded outputs. Each of the decoded outputs is normally low and sequentially goes high on the low to high transition clock period of the 10 clock period cycle. The CARRY (TC) output transitions low to high after OUTPUT 10 goes from high to low, and can be used in conjunction with the CLOCK ENABLE (CE) to cascade several stages. The CLOCK ENABLE input disables counting when in the high state. A RESET (MR) input is also provided which when taken high sets all the decoded outputs, except "0", low.
R2 is a linear potensiometer to adjust clock frequency and of course the frequency of the blinking LEDs as well.
Download the 4017N Datasheet:

Incoming Search:
running light circuit diagram pdf
,
running led circuit diagram pdf
,
running led circuit diagram
,
100 led running light circuit diagram
,
running light led circuit diagram