The following diagram is the circuit diagram of Class-D audio power amplifier which built based on power chip TDA8929T.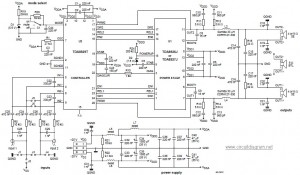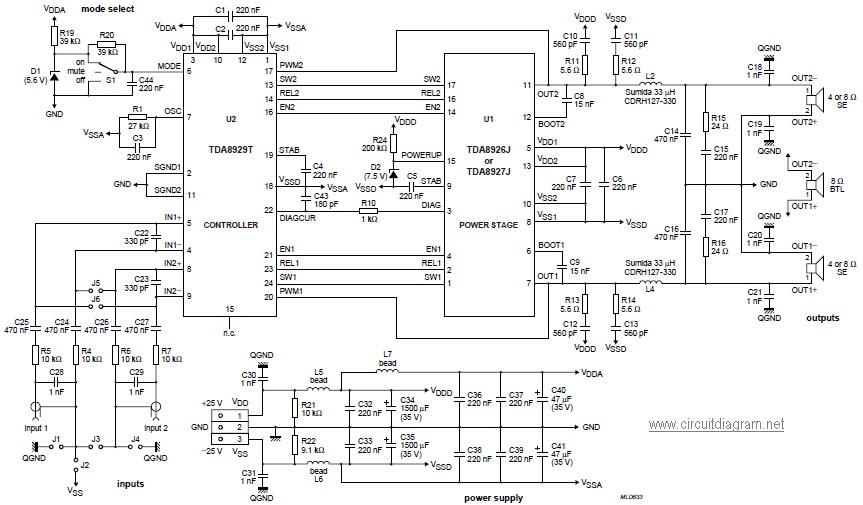 About TDA8929T:
The power IC TDA8929T is the controller of a two-chip set for a high efficiency class-D audio power amplifier system. The system is divided into two chips:
TDA8929T; the analog controller chip inside a SO24 package
TDA8926J/ST/TH or TDA8927J/ST/TH; a digital power stage inside a DBS17P, RDBS17P or HSOP24 power package.
With this chip set a compact 2 ? 50 W or 2 ? 100 W audio amplifier system might be constructed, operating with high efficiency and quite reduced dissipation. No heatsink is needed, or depending on source voltage and load, a really tiny one. The system operates above a wide supply voltage range from ?15 as much as ?30 V and consumes an extremely minimal quiescent current.
TDA8929T Features:
Low distortion
Fixed gain of 30 dB Single-Ended (SE) or 36 dB Bridge-Tied Load (BTL)
Operating voltage from ?15 to ?30 V
Very low quiescent current
Internal switching frequency can be overruled by an external clock
No switch-on or switch-off plop noise
Good ripple rejection
Diagnostic input for short-circuit and temperature protection
Usable as a stereo Single-Ended (SE) amplifier or as a mono amplifier in Bridge-Tied Load (BTL)
Start-up safety test, to protect for short-circuits at the output of the power stage to supply lines
Electrostatic discharge protection (pin to pin)
The schematic diagram, PCB layout design, characteristic information and the complete explanation about this TDA8929T Class-D Audio Power Amplifier already described in the datasheet document.
Download the TDA8929T datasheet
Incoming Search:
ahuja amplifier circuit diagram
,
class d amplifier schematic 1000w
,
high power class d amplifier schematic