The following diagram is the Theremin music instrument effect. A guitar or instrument amplifier is an ideal companion unit for the theremin; either one allows bass or treble boost, as desired, and fuzz (distortion) or reverberation (if these features are incorporated in the amplifier"s circuit). Simply provide a suitable cable plug and connect the theremin"s output cable to the amplifier"s input jack.
Schematic Diagram: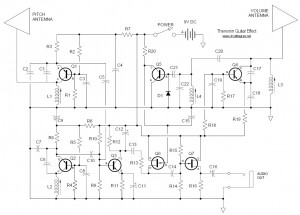 Parts List:

B1
C1,C6
C2,C7,C17,C22
C3,C8,C19
C4,C9
C5,C10
C11
C12,C14,C15
C13
C16
C18
C20,C21
D1
L1,L2,L3,L4
Q1,Q2,Q4
Q3,Q5
Q6,Q7
R1,R4,R17
R2,R5,R18
R3,R6,R7,R8,AND R11,R19
R9,R12,R16,R20
R10,R13
R14,R15
9-VOLT BATTERY
390pF POLYSTYRENE CAPACITOR
0.001uF POLYSTYRENE CAPACITOR
0.1uF DISC CERAMIC CAPACITOR
10uF, 15V ELECTOLYTIC CAPACITOR
60pF POLYSTYRENE CAPACITOR
200uF, 15V ELECTOLYTIC CAPACITOR
0.001uF DISC CERAMIC CAPACITOR
0.01uF DISC CERAMIC CAPACITOR
5uF, 15V ELECTOLYTIC CAPACITOR
0.01uF POLYSTYRENE CAPACITOR
4.7pF POLYSTYRENE CAPACITOR
1N34A DIODE
50-300uH ADJUSTABLE COIL
MPS3638 TRANSISTOR (MOTOROLA)
MPS3708 TRANSISTOR (MOTOROLA)
TIS-59 N-CHANNEL FET (TEXAS INST)
47K 1/2W 10% RESISTOR
33K 1/2W 10% RESISTOR
1K 1/2W 10% RESISTOR
10K 1/2W 10% RESISTOR
100K 1/2W 10% RESISTOR
4.7MEG 1/2W 10% RESISTOR
PCB Layout: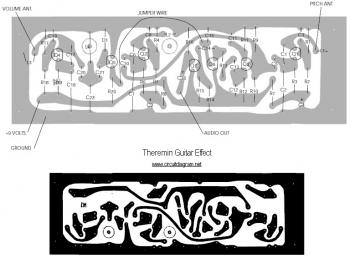 The theremin is ideal for amateur as well as professional musicians and can be used for "fun" sound effects as well as for serious music. It makes a wonderful addition to the home recreation room, and can be used equally well by rock"n" roll groups or larger bands. Theatrical groups find it just the thing for producing eerie and spine-tingling background effects to accompany mystery or horror plays, and for the budding scientist or engineer, it is an excellent Science Fair project.
Download Theremin music instrument explanation includes the theremin schematic and pcb layout:

Incoming Search:
linear theremin