This is the circuit diagram of stereo power audio amplifier using power IC LM4756. The IC have the capability to deliver dual output channel at 7W for each channel. Like the other audio amplifier circuits, this circuit just need a few external components to work.
Circuit Application: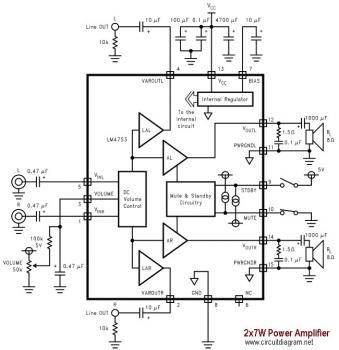 PCB Design:
This is the PCB design for 2 x 7W audio amplifier with LM4756: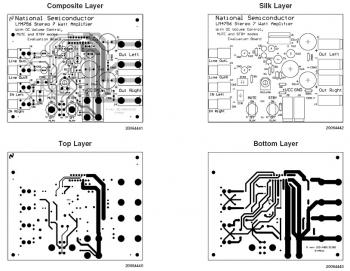 About LM 4756:
The LM4756 is a stereo audio amplifier capable of delivering 7W/channel at 10% distortion into a 4? or 8? load. The power amp has an internally set gain of 30dB. A 0V?5V DC controlled volume block provides 80dB of attenuation from input to line-out. Line outputs are available after the volume control for signal routing.
The amplifier has a smooth transition fade-in/out mute and a power conserving standby function which are controlled through TTL or CMOS logic. Both functions provide over 75dB of attenuation.
The LM4756 maintains an excellent Signal-to-Noise ratio of greater than 70dB with a low noise floor less than 2mV. The IC also maintains above 50dB of channel separation.
LM4756 Features:
Quiet fade-in/out mute function
Stereo variable line-out pins
AC output short circuit protectio
Thermal shutdown protection
Download LM4756 Datasheet for detailed explanation about LM4756 include the circuit application:
Incoming Search:
tea2025b amplifier circuit
,
amplifier using tea2025