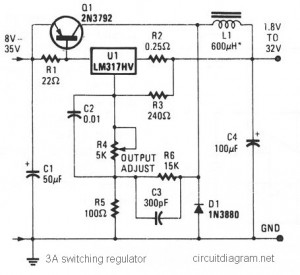 Above circuit diagram is a easy, simple and cheap switching voltage regulator which has capability to deliver adjustable voltage output range of 1.8V to 32V and static electric current of 3A. This regulator use adjustable regulator IC of LM317HV and a power PNP transistor of 2N3792.

The LM317HV is adjustable 3-terminal positive voltage regulators capable of supplying in excess of 1.5A over a 1.2V to 57V output range. This electronic component exceptionally easy to use and require only two external resistors to set the output voltage. Further, both line and load regulation are better than standard fixed regulators. Also, the LM317HV is packaged in standard transistor packages which are easily mounted and handled.
LM317HV Features:
Adjustable Output Down to 1.2V
Specified 1.5A Output Current
Line Regulation Typically 0.01%/V
Load Regulation Typically 0.1%
Current Limit Constant with Temperature
100% Electrical Burn-in
Eliminates the Need to Stock Many Voltages
Standard 3-lead Transistor Package
80 dB Ripple Rejection
Output is Short-circuit Protected
P+?Product Enhancement Tested
Circuit Notes:
C1 and C4 must be solid tantalum capacitor type to get the best output quality.
L1: CORE-ARNOLD A.254168.2 60 TURNS
Download LM317HV datasheet for project reference.