This is an amplifier circuit with gain music output power up to 7W. It uses IC TDA2003 as main component. This 7 watt audio amplifier circuit is small but powerful multi purpose amplifier.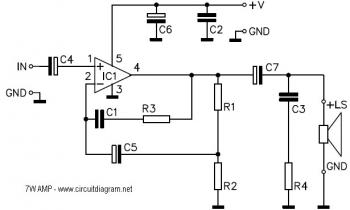 IC TDA2003 provides a high output current capability (up to 3.5A) very low harmonic and cross-over
distortion.

Completely safe operation is guaranteed due to protection against DC and AC short circuit between all pins and ground, thermal over-range, load dump voltage surge up to 40V and fortuitous open ground.
Components List:
R1     : 470
R2     : 4.7
R3     : 100
R4     : 1
C1     : 8n2 (822)
C2,C3  : 100nF (104;0.1u;.1u)
C4     : 10uF/25V
C5     : 470uF/25V
C6, C7 : 1000uF/25V
IC     : TDA2003
Amplifier Specifications:
Power output: 7W / 4ohm
RMS output: 3.5W / 4ohm or 2W / 8ohm
Total harmonic distortion: 0.05% (1W / 1kHz)
Frequency response: 20Hz to 20kHz (-3dB)
Signal/noise ratio: 86dB (A weighted)
Input sensitivity: 40mV / 150Kohm
Overload and short-circuit protected
Supply voltage: 15V DC (8 to 18V DC possible) / 0.5A
Download the detail circuit, schematic diagram and component part of this "7 Watt Audio Amplifier with IC TDA2003" in PDF version:

Download TDA2003 Datasheet Document:

The kit version of 7 Watt audio amplifier with IC TDA2003: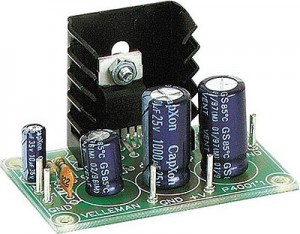 Incoming Search:
ic tda2003 pin diagram
,
tda2003 amplifier circuit
,
ic tda2003
,
tda2003 ic