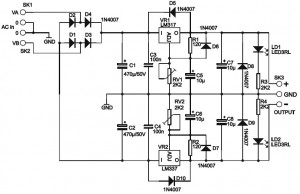 This is the circuit diagram of adjustable symmetric 1 to 24VDC, 1A Power Supply. This power supply give dual output positive and negatif output, you can adjust both positif and negative output (+1 to +24VDC and -1 to -24VDC). This kind of power supply also known as dual polarity power supply or splitted power supply which give positive anf negatif output.

This power supply can be used for universal usage, which required not more than 1A DC current. Please take a note that you should adjust the output voltage using general multimeter or DC voltmeter before use this power supply to protect the supplied devices.
Circuit Features:
Low cost universal symmetric power supply
Just add a suitable transformer and a heatsink
Ideal for e.g. op-amp applications, amplifiers, …
Trimmers can be replaced by potmeters to allow continuous adjustment of output voltage
LED output indicators
Circuit Specifications:
Positive and negative output adjustable between 1.2 and 24VDC
Output current: up to 2 x 1A continuous (with suitable heatsink)
Max. input voltage: 2 x 24VAC
Very good line and load regulation
Low ripple
Short circuit protection
Thermal protection
Circuit Manual of Adjustable Symmetric 1 to 24VDC, 1A Power Supply:

Kit Version:
This circuit available in kit version by valleman, you may purchase this kit online.