Here is 100 Watt Inverter 12V DC to 220V AC schematic diagram. This circuit designed using the combination of main components IC CD4047, Transistor TIP122 and 2N3055.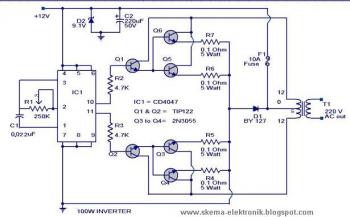 Circuit Notes:
A 12 V car battery can be used as the 12V source.
Use the POT R1 to set the output frequency to 50Hz.
For the transformer get a 12-0-12 V, 10A step down transformer. But here the 12-0-12 V winding will be the primary and 220V winding will be the secondary.
If you could not get a 10A rated transformer , don"t worry a 5A one will be just enough. But the allowed out put power will be reduced to 60W.
Use a 10 A fuse in series with the battery as shown in circuit.
Mount the IC on a IC holder.
Remember, this circuit is nothing when compared to advanced PWM inverters.This is a low cost circuit meant for low scale applications.
More explanation about this inverter circuit, please visit this page
Incoming Search:
12v to 220v inverter circuit diagram pdf
,
dc to ac inverter circuit diagram pdf
,
12vdc to 220vac inverter circuit diagram pdf
,
500w inverter circuit diagram pdf
,
simple inverter circuit diagram pdf