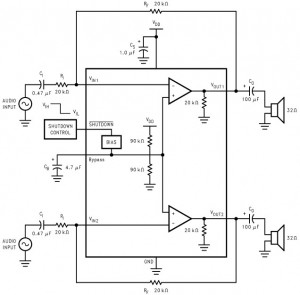 This is the stereo headphone amplifier circuit diagram, built based LM4809. This circuit can be used for stereo headphone amplifier circuit for home audio system, microphone preamplifier, personal computers and PDA headphone amplifier and more.
The LM4809 is known as a stereo audio power amplifier capable of delivering 105mW per channel of continuous average power into a 16 Ohm load with 0.1% (THD+N) from a 5V power supply.

This audio power amplifiers had been designed specifically to deliver top quality output power having a minimal quantity of external components. Because the LM4809 doesn't need bootstrap capacitors or snubber networks, it's optimally suited for low-power portable systems.
The unity-gain stable LM4809 could be configured by external gain-setting resistors.
The LM4809 features an externally controlled, active-low, micropower consumption shutdown mode, and also an internal thermal shutdown protection mechanism.
LM4809 Features:
Active-low shutdown mode
"Click and Pop" reduction circuitry
Low shutdown current
WSON, MSOP, and SOIC Surface Packaging
No bootstrap capacitors required
Unity-gain stable
Checkout the LM4809 datasheet by download the document: