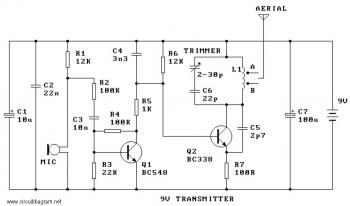 Here the simple and low cost FM transmitter circuit. The frequency range of this FM transmitter should be about 89MHz ? 109MHz. Output power is about 9mW at 9V.
Components List:
Resistors:
R1, R6        : 12K
R2, R4        : 100K
R3            : 22K
R5            : 1K
R7            : 100R
Capacitors:
C1            : 10uF/25V
C2            : 22n
C3            : 10n
C4            : 3n3
C5            : 2p7
C6            : 22p 
C7            : 100uF/16V
Trimmer       : 0-30pF tuning capacitor
Mic           : ECM-60P
Transistors:
Q1            : BC338
Q2            : BC548B

The battery supply rails have been well tied together with respect to radio frequencies (C1, C2 and C7.) The tracks are also thicker. This makes the circuit a single "solid" block eliminating RF currents in different parts of the circuit. This also means the battery no longer has RF on it which makes the whole unit a lot more frequency stable. A battery is perfect choice.
Download the complete explanation of this FM Transmitter (include circuit diagram, component list, the circuit's work) in PDF format:

Source: kitrus.com
Incoming Search:
fm transmitter circuit pdf
,
fm transmitter and receiver circuit diagram pdf
,
fm radio circuit diagram pdf
,
fm radio circuit diagram download
,
rf transmitter and receiver circuit diagram pdf