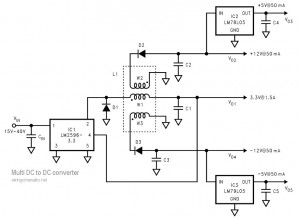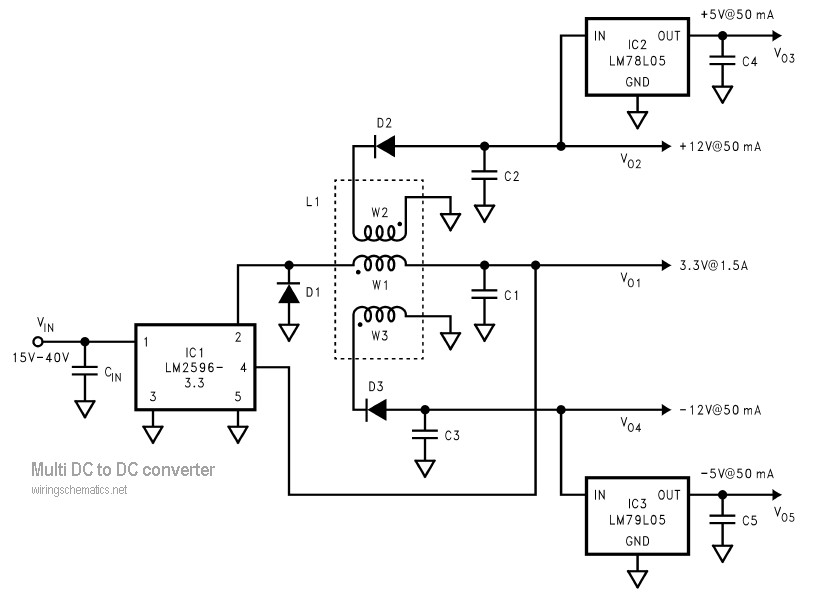 This is the circuit diagram of DC to DC converter based LM2596, the circuit has a single input supply and multiple voltage outputs. The circuit has an input voltage range of 15V to 40V. It has 5 outputs: 3.3V at 1.5A; +12V and ?12V at 50 mA each; and +5V and ?5V at 50 mA each. The 3.3V, +5V and ?5V outputs are regulated with ?5% accuracy over line and load variations.
Circuit parts list:
Cin : 220 uF, 50V, Nichicon UPL1H221MPH
C1: 270 uF, 63V, Nichicon UPL1J271MRH
C2, C3: 47 uF, 35V, Nichicon UPL1V470MPH
D1: MBR360,
D2, D3: 1N459,
C4, C5: 0.01 uF
IC1: LM2596-3.3 (SIMPLE SWITCHER? Step-Down Voltage Regulator)
IC2, IC3: LM78L05, and LM79L05. (3- Terminal Regulators)
L1: Custom Inductor with three windings (W1, W2 and W3) with the following specs:
W1: 47 uH; Peak Current: 2.6A, RMS Current ? 2.32A
W2: Number of turns = 3.4 x Number of turns in W1; RMS Current; 113 mA
W3: Same as W2
The +12V and ?12V outputs are regulated with ?20% accuracy. A typical application of this circuit is where the 3.3V output provides the power to the main circuit which is 3.3V logic, the ?5V outputs power the 5V logic and ?12V outputs provide the bias supply of op-amps.
The efficiency of the circuit with full load at all outputs is 75%. The ripple voltage across the 3.3V output is less than 20 mV and that across the ?12V outputs is less than 30 mV. The ripple across the ?5V is less than 10 mV.
Download the application notes fro this DC to DC converter circuit HERE